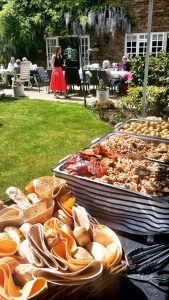 Welcome to Hog Roast Wellingborough, where we put your plans centre stage and deliver nothing but the very finest in hog roast catering. We'd like to offer our heart-felt thanks for taking the time to visit our site and discover more about our expert high roast services. We have a specialist understanding of party planning, and we know that arranging the finer details can be time consuming – trusting us to take care of the catering is a huge responsibility that we take seriously, and we always deliver exceptional results. With over 10 years of industry experience, we are best-placed to take full control of your catering needs.
Types of Events and Celebrations
There is no such thing as a standardised party format. That's because no two parties are ever close to being the same. From the venue and the layout to the reason for getting together and the food and drink on offer – there are literally countless permutations. That's why Hog Roast Wellingborough provides a tailored catering solution that can fit with your plans, whatever the event or occasion or venue or size of the guest list. We specialise in listening carefully to your party plans and preparing the most visually stunning and above all tasty choice of roasted meats and sides.
Types of events and celebrations include:
Wedding day celebrations – In our experience, the big day comes in a variety of shapes and sizes. We can cater to smaller intimate weddings or larger scale celebrations with much larger guest lists.
Private parties – A private party at home or in the garden provides an excellent opportunity for people to meet talk – bring them together over a delicious meal of hog roast meat and side orders.
Corporate and Charity Events – Corporate and charity events are often attended by many people who are not acquainted – hog roast catering provides the perfect reason to come together and chat over a meal.
Indoor & Outdoor Party Catering
We know that not every party comes complete with a catering prep area. That's where our expert hog roast chefs can save the day. We are able to provide platefuls of delicious hog roast meat complete with a range of sides in as much space as it takes to set up one of our gleaming machines (and space for the chef!). Whether your party is limited on space or whether your special event or celebration is taking place outdoors, Hog Roast Wellingborough has the party catering solutions you need to make the most of the space you have available
Hog Roast Machine Hire – Wellingborough
Would you prefer to charge of the chef's hat for the day? That can be arranged. Hog Roast Wellingborough offers machine hire options that could see you taking over the apron. Call us today to discuss your requirements. We'll deliver the hog roast machine (complete with a small and easy tutorial), along with all ingredients, extra gas canisters, gazebos, and tables as desired. We'll even arrange pick up at a time to suit you.